When It's Time to Prepare for SNOW
XJ2025H Loader/Snow Blower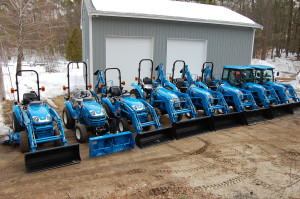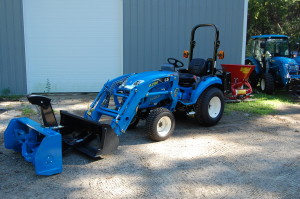 This 25 HP  Tractor  has a Hydrostatic Transmission
a Front loader that lifts 1277 lbs
and a 3 cyl Mitsubishi powerplant.
The XJ2025H Tractor is a real workhorse compared to other machines its size.
There are 3 Snow Blower options
The  50″ LS Front Mount Snow Blower, shaft drive,  runs on Mid PTO
A Meteor 54″ Rear Blower mounted on 3 point hitch (drive backward to use)
Convert rear Meteor 54″ to mount in front bucket and run on Hydraulic Power pack
Choose Turf or R-4 Tires
Add a:
Backhoe
ToothBar
Soft Cab Basic
Soft Cab Deluxe
XR3135HC Loader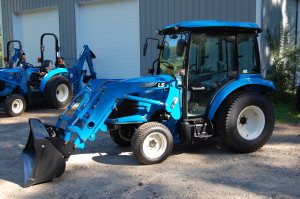 35 HP – Hydrostatic Drive
Factory Cab with Heat, A/C, Front and Rear wipers and washers, Radio, Cloth Seat
 Front and Rear work lights, tilt wheel, cruise control
Two sets of rear remote valves
Choice of Ag, Turf or R-4 Tires
Stay Warm and Dry while you move snow with the loader
or mount a Snow Blower either on the Front or Back
use a Power Angle plow on the Skid Steer Style bucket mount.
You can even use a small snow pusher.
You can get this machine with or without a cab
in a Gear or Hydrostatic version
and add a Backhoe, Toothbar, Box Blade, Mower, Brush Hog, Grading Blade
or many other implements.
XR4145HC Loader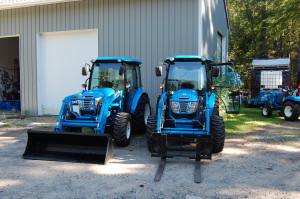 If you need more size and Power the 4100 series of tractors can fill that need.
Available in
40/45/50/55 HP
Gear or Hydrostatic transmissions
with or without cabs
add Snow Plows, Snow Buckets, Snow Blowers, Sander, Pusher
Power, Reliability and Price